Topless Vac-U-Tow™
The low cabin outline gives you a thick firm deck with an easily trimmed opening for access to the workings of the boat. A trim-ledge leaves you a framed opening that allows you to cover the opening with a flat piece of plastic to waterproof your hull.
Build your own custom superstructure using this deck as the foundation. Great for static-builders who want to get their feet wet!
Now available for the single-screw Vac-U-Tow and twin-screw Vac-U-Tow 2.
This kit has all of the below-deck parts, a plain deck with only a pair of 1:48 scale Tow Knees, a 1:48 scale Stack, Rubber Rub Rail, and Rubber Tow Knee Pads.
Twin-Screw version has 2 Stacks.
Click framed photos to enlarge.
Standard Hatch version. Same hatch dimensions as the standard single or twin screw towboat. The cabin has the same outline as the standard Vac-U-Tow cabin.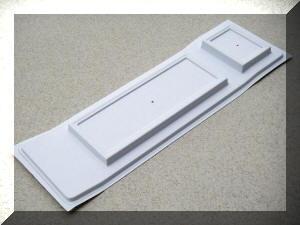 Narrow Hatch version. This hatch base is the same width as the cabin to allow you to frame a cabin rearward over the stern.
Now listed in the Kits, Parts, & Accessories page.
Superstructure plans/drawings are now available from Towboat Joe at
http://www.vac-u-boat.com/Towboat_Joes_Site/Vac-U-Tow_2.htm