Vac-U-Tow™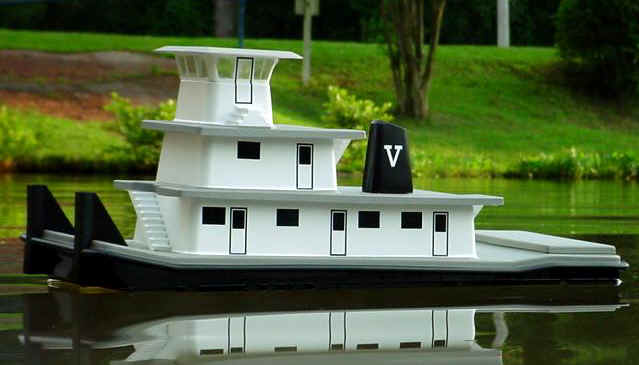 Length: 21.5 in. Beam: 6.5 in. Draft: 1.6 to 2.0 in. Displacement: 4.5 to 6 lbs.
1:48 Scale (1/4 inch = 1 foot)
Model Towboat Kit
( Model Pushboat Kit )
For Radio Control, Manufactured by Vac-U-Boat™
The Vac-U-Tow™ is an easily-built styrene "Trip Boat" Class towboat kit for builders new to the hobby or for our young boating friends who want to learn about workboats on our rivers and waterways.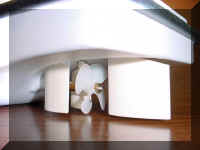 Now available in two TOPLESS TOWBOAT versions. Click HERE for details.

The Vac-U-Tow kit comes complete with a 545-type 5-pole motor, a single-screw drive system, flanking rudders, and a system for installing, aligning, and controlling them that will work for you. You install your own 2-channel radio, electronic speed control, ballast weights, and battery.

This towboat kit now comes with the new Vac-U-Boat 3-Blade Scale Bronze Metallic Plastic prop.
Pull Chart
Boat
Prop
Cruising Amp 6 cells
Pull 6 cells
Cruising Amp 7 cells
Pull 7 cells
Stock Towboat
Vac-U-Boat 3-Blade
.94 amp
8.5 oz.
1.13 amp
10 oz.
It is easy for the novice to build the Vac-U-Tow in just a few hours. The drive system is very durable and should provide years of service with very little maintenance. The H.I.P.S. "High Impact Poly Styrene" hull is lightweight and strong. It is trimmed by a rubber rub rail that will greatly reduce the chance of damage to other boats during a collision. At full throttle, it runs at a normal walking pace making it easily controlled by young children without the risk to the "adult toy boats" in the area. This is an ideal "first kit" for anyone new to scale model boating. At club meetings it makes a great visitor's boat because of it's long run times, slow speed and low maintenance.
There is plenty of room inside for your radio gear and batteries. The motor is pre-installed in the motor tray. It draws only .95 Amp cruising at full throttle. With a two channel radio, electronic speed control & regular servo use, the total draw can average 1.3 Amps. With a new, fully charged 1,500mA 7.2 volt Ni-Cad battery, Vac-U-Tow will run for 1.5 to 2.0 hours! With this setup, about 42 ounces of ballast weight is necessary. This means that you can substitute heavier batteries or add electronic gear without overloading the hull. Oilite® bearings support the stainless steel prop shaft in a custom drawn brass stern tube. A syringe of non-toxic, plastic-friendly synthetic grease is included for filling the stern tube. Our exclusive brass motor-prop shaft coupling uses an acetal plastic dogbone that has self-lubricating properties to minimize wear. The resin rudder and flankers are cast over solid brass shafts and supported at the rudder arm with Oilite® bearings. Screws are stainless steel. DU-BRO™ E/Z Connectors are provided to attach the stainless steel pushrod to the servo, rudder, and flankers. The boat can be painted with standard "hobby enamel" short spray cans available at discount & hobby stores. To finish the boat, the kit includes outdoor sign-quality vinyl decals for doors and windows. White vinyl decals frame the clear window openings of the pilot house.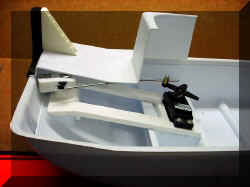 Towboat Magnetic Barge Catch/Release Kit. Click the photo for more information.
New Feature: Improved Rear Hatch Access
Click the photo below to view the instructions in a PDF file.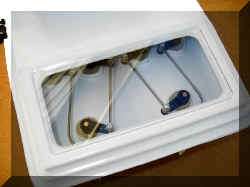 What comes with the kit?
Click page 3 of the instructions for details.
The kit does not include railings, deck equipment, or scale fittings.
Introductory price $124.95.
Click

HERE

for details!
Find out how much your Tow Boat Tows, or your Tug Boat Tugs!
Pull-Type Spring Scales Manufactured by OHAUS.
When I am thinking of buying something, I like to look at all of the instructions first. Here they are: Printed instructions are in black & white. These are PDF images of the instructions. Acrobat formatting may cut off a word or two at the bottom of some pages. Some final editing may not be reflected in these pages. To download a page, click the thumbnails below. You will need Acrobat Reader on your computer to open the files.
| | | | |
| --- | --- | --- | --- |
| | | | |
| Page 1 34k | Page 2 6k | Page 3 251k | Page 4 99k |
| | | | |
| Page 5 102k | Page 6 126k | Page 7 122k | Page 8 130k |
| | | | |
| Page 9 119k | Page 10 117k | Page 11 144k | Page 12 147k |
Click HERE
to see the development of the Vac-U-Tow over the past several months.
Click HERE
to see one of the real towboats that inspired the design of the Vac-U-Tow.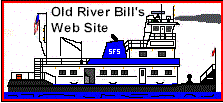 A tribute copy of Old River Bill's website.