Vac-U-Tug
Motor Upgrade Kit
This should give you the power to maneuver a 10 pound Soling, or other 1-meter sail boats or larger scale boats. Not recommended to just make the tug go faster. Use only for recovery work. Cruise at half throttle.
Fits the tug motor tray after a minor adjustment to the tray. Use the 3/32 inch coupling from the tug's stock motor.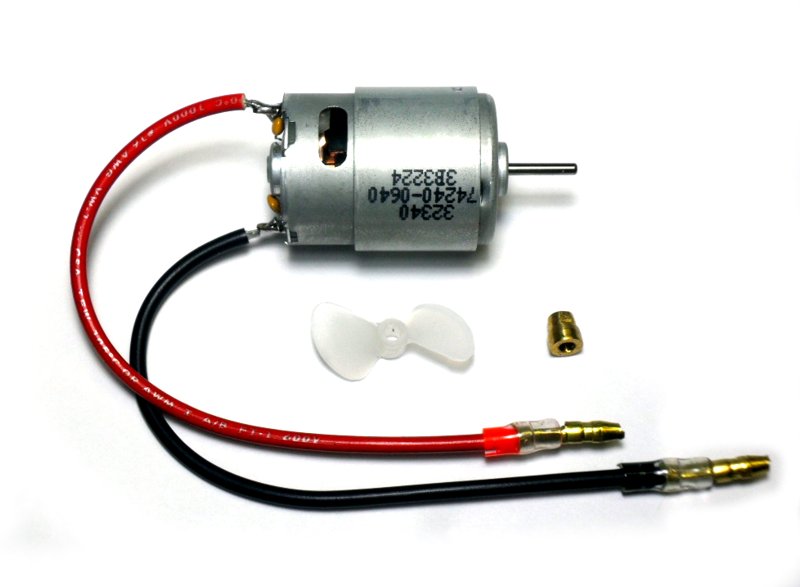 Contents: 3 pieces. 380 type motor - pre-wired with capacitors, 1-1/4 inch plastic prop, brass prop nut, and instructions.
When installed in the Vac-U-Tug Jr., these parts will increase the static-tow pull of the tug to approximately 10 ounces, drawing 2.3 amps at 7.2 volts (6 cell rechargeable battery). At continuous full power, this motor will not overheat. With 7 cells (8.4 volts) it will pull 12 ounces. However, 6 cells are recommended to keep the motor running cool. WARNING: Using larger props with this motor can result in overheating and damage to the motor and/or the tug boat.
Since this motor/prop combination will push the tug to its hull speed at 50% throttle, you should not apply full power until you are pulling a load. Once a full displacement hull has reached its hull speed, additional power will result in relatively small speed increases.
IMPORTANT: With this upgrade the stern of the boat is more likely to get wet as it digs in. You must seal the rear hatch opening to prevent leaks.