WHAT'S NEW:
Some new parts posted on the kits/parts page.
New TALLER COWL for the JAE 21FE Electric Rigger from ZippKits. See Aftermarket Parts.
New Vac-U-Duck is in stock! A separate boat built under the decoy. No openings for rain to enter.
Vac-U-Fletcher, a semi-scale 1:144 Fletcher Class Destroyer Intro Page Posted.
It is the Dawn of a New Duck. Building stock for the re-release of the Vac-U-Duck Spring 2016.
The Tug Overhaul is complete. The Servo Tray, Motor Mount, Rudder and Skeg Reinforcement are all injection molded plastic. An improved motor to prop shaft alignment tube and reinforcing strips to support the Servo Tray screws are included.
Redesign and rebuild of the tug motor tray with more stable injection molding plastic. See tug page for details/update.
New hardware added to Kits/Parts page including new 3/32" Motor Couplings for smaller 380-size motors.
The Vac-U-VeeJr. is available. Instructions are posted along with two build pages showing straight and flex shaft hardware installation.
Tug instructions are no longer shipped with the kit. This saves postage, a few trees, and allows many of the instructions to change as the kit changes. A full-color PDF of the instructions is on the Tug page Vac-U-Tug for you to use when building the kit.
After a couple of years of mold-making, we are producing an injection-molded bronze metallic polyethylene 1-3/4" scale prop for the tug and towboat kits. This includes a Counter-Rotating set of matched Left and Right hand props. Read more on the Vac-U-Tug, Vac-U-Tow and Kits/Parts pages.
Added a ribbed reinforcement for the deck of the Crackerbox kit. Modified the instructions to show a mahogany plywood transom reinforcement installed inside the hull and the installation of the new deck reinforcement.
The 27-inch Vac-U-Vee and 20-inch Vac-U-VeeJr. Mono Hulls are completed and tested. Prototypes have been performing well. Decals are done. Motor mounts are being laser-cut. Instructions are in progress. Better web pages to follow. Take a peek at some preliminary photos/videos here: Vac-U-Vee and Vac-U-VeeJr.
The Tug Deck now includes recesses for the cabin and rear hatch openings for easy trimming and a stronger, more-professional appearance.
New larger injection-molded rudder is now included with Vac-U-Tug Jr. kits.
4MM Couplings assemblies and ends now available.
IROC Shoot Out in Sanford Florida. Website here: http://www.rcshootout.com/ Photos & Videos here: http://www.vac-u-boat.com/IROC_Shootout_2008.htm
Vac-U-Pickle is completed. Available with three choices of cowls. Prototype, Atlas-Style, and Unlimited Turbine Style (Modern Oberto or Miss Budweiser style.) Decals available for all cowls.
11/23/07 15-degree Brushless Motor Mount is available for larger-longer 540 and Neu Brushless Motors. Click HERE for details.
11/17/07 Secret Project "Vac-U-Pickle", a 26" Pickle Fork Hydroplane, is near completion. Putting final touches on the Cowl Mold. Revolutionary internal structural design. Nothing else like it. Over 50 mph in trials. Ask me about it.
7/14/07 Finally listed the Vac-U-Tow 2 kit plus Topless Towboat kits for both the single-screw and twin-screw versions of the boat. Instructions will follow when completed. Towboat Joe is working up some plans for decks for the Topless kits.
6/03/07 Posted Solar Tugboat photos linked in the Special Boats section off of the home page.
5/25/07 Found a $20 toolbox that can hold the Vac-U-Cracker, Tug Jr., and Towboat here.
3/19/07 Created a page for Electronic Speed Control recommendations for the different models produced here. Link is on the home page.
2/17/07 Redesigned the rear hatch of the towboat to accommodate the twin-screw version. Allows better access and lets you view the rudder linkages without unsealing the opening.
1/27/07 Back in town and working on the Vac-U-Tow 2. Updated photos posted.
11/27/06 New smaller Rub Rail now available. Also called Rubber Edge Trim. Click "Prices" for the Kits/Parts page.
11/15/06 Spilled the beans on the Twin-Screw Vac-U-Tow 2. Thought you would like to see a photo. A twin-screw version of the Vac-U-Tow!
11/2/06 I "Rediscovered" tug and tow photos sent to me while away on storm duty in Florida that never made it to the photos pages. Posting them today.
10/20/06 Just posted 3 large real crackerbox photos from Rob J. Work continues on the Vac-U-Gator.
9/9/06 Significant progress on the Vac-U-Gator Kit. Updates with photos on that page.
8/1/06 Added logos to the club links on the home page. Still tinkering with the Gator.
7/03/06 Posted 130 photos from the 2006 Chattanooga Invitational Regatta.
3/29/06 Vac-U-Boat is a US Navy Contractor! See link on Home Page.
3/18/06 Link to the new Scale Parts reference page added to the Vac-U-Tug Links.
1/7/06 Posted 4 videos of Vac-U-Crackers
12/13/05 Vac-U-Cracker kits are ready! Click HERE for details.
11/12/05 Doug has been working on a Crackerbox Unlimited Class boat with a custom surface drive made with the stock parts. Movie too. See the Vac-U-Cracker Page.
11/8/05 Towboat Joe showcases a complete Vac-U-Tow model build on his new web site. Link here: http://www.towboatjoe.com/vac-u-boat.htm
11/4/05 Still messing with the Crackerbox kit. Making a better rudder. See a photo of it on the Crackerbox link at the home page. Also continuing the slow work on the Vac-U-Gator. Will update soon.
10/14/05 Posted 181 Photos I took at the Saint Louis 2005 Regatta. Had to adjust most of them due to the varying lighting conditions.
10/10/05 Crackerbox parts are all in. Working on injection-molded rudder housing to make a better product.
7/27/05 Posted more details on the 1/10 scale crackerbox kit, the Vac-U-Cracker.
7/9/05 Posted 104 photos and a detailed article on the 2005 Chattanooga Invitational on the CMBC Club Page.
7/9/05 Vac-U-Cracker 1/10 scale Crackerbox Kit announcement! Link on the Home Page.
7/8/05 The Vac-U-Tow Barge Catch Assembly is ready. Also added several items to the Kits-Parts page: New 545 motors, new VelcroŽ is in (designed to stick to hobby plastics), two new aluminum motor mounts, and two styles of "shark fin" turn-fins for your fast electrics made of laser-cut stainless steel. I'm working on a catalog to better show what is available now that the inventory is getting a little larger.
5/23/05 Dan L's highly modified tug added to the Special Boats section.
3/29/05 Added Jim M's tug build details to the Special Boats section. We can learn a lot about making scale accessories out of everyday household objects from this builder.
3/25/05 Vac-U-Gator fiberglass original arrived today. A couple of pics added to the page. Lots of work to do!
3/9/05 Towboat Magnetic Barge Catch/Release Kit. See the Home Page for a link to the details.
2/10/05 Added a few Real Towboat photos to that page. Thanks Barry!
2/4/05 Vac-U-Gator! Our first R/C Reptile. See the home page.
11/22/04 Tug Surfing off Tybee Island Georgia. In response to those who ask if the tug can handle rough water! See Tug Video page.
10/26/04 Some page reformatting to eliminate white space around some pictures, making more room for rambling.
10/25/04 Posted a Tug with a 545 motor installed in the "More Power" section built by Philip S.
10/2/04 FINALLY posted follow-up pictures for the "Gadgets" page on the LED tug floodlamps.
10/1/04 Bellsouth transfered shared web-hosting to a new server. Counter reset. Yikes!
9/8/04 Posted nice photos of a couple of new Vac-U-Tow Boats submitted by the builders.
8/7/04 Rebuilt the Home Page to make it a bit friendlier. Split up photos, customer comments, and other pages into Tow, Tug, Duck, & Cam pages. Trying to be warm & fuzzy...
7/12/04 First Vac-U-Tow photos submitted. Posted on the Vac-U-Tow Photos page.
7/2/04 Vac-U-Tow is done. Take a look!
7/2/04 Posted the two DIY Network's Radio Control Hobbies shoots at our club in May and June. Should be a great episode. Hope a few of us survive the editing!
6/30/04 Posted the June Chattanooga Scale Regatta / Invitational photos on the Chattanooga Model Boat Club page.
5/6/04 Delays in the decal sets for the towboat. That is the only thing holding back the kit. Appreciate your patience!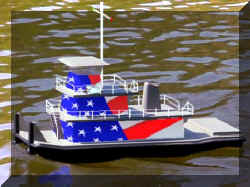 4/17/04 Maiden voyage of two Vac-U-Tow prototypes. Tested from 7.2 to 13 volts. Bollard pull from 5 ounces to 14 ounces.
4/5/04 Final Vac-U-Tow prototype construction photos for instruction manual completed. Final build photos posted. More new Vac-U-Tug Photos as well.
3/13/04 Pull-Type Spring Scales Manufactured by OHAUS. Measure your boat's bollard pull. Just below the ducks in the Price List page. Or, see them at the Scales page.
2/28/04 Mike S's Bass Boat made from a Vac-U-Tug Jr. Now, don't try this at home...
2/27/04 Small update on the Tow Boat. Waiting on mold stuff to show up in the mail. Prototype assembly will be soon.
2/10/04 Deleted the Pintail Ducks from the website. The drakes had internal flaws and webbed plastic that made it impossible to form them properly. The hens were a little small and it was hard to get the prop far enough from the hull and still have a good rudder. I'm looking into other species.
11/26/03 Vac-U-Tow test forming of superstructure molds. Some adjustment is necessary but overall, its looking good!
11/18/03 Added all 12 pages of the Vac-U-Tug Jr. Instruction Manual to the Vac-U-Tug page.
10/16/03 Jacksonville Florida Fun Float 2003 pictures added to left menu.
10/7/03 Added Links for Corrosion-X, that magical stuff that keeps water from trashing your boat's electronics, and SAILKOTE, the equally magical stuff that makes all dry things slippery.
10/5/03 Nice Vac-U-Tug Jr. article by Paul Lali at Model Boat Mayhem http://www.modelboatmayhem.co.uk/ Thanks Paul!
9/21/03 Vac-U-Tug Jr. Motor Upgrade Kit is now available. This will give you the power you need for larger craft recovery.
9/14/03 Photos and update on the stern tube, rudder, and flankers for the Vac-U-Tow tow boat at Vac-U-Tow.
9/13/03 Some nice person submitted Vac-U-Boat.com to Tower Hobbies. Their response: Thank you for letting us know about this link. After considering its content we have determined that it merits inclusion in the R/C Web Directory and will be adding it soon. Also, we appreciate the fact that you have linked to Tower Hobbies from your page as well! Thanks again and good luck! Kevin Hisel, Vice President, Tower Hobbies.
9/9/03 Discontinued the Pintail Duck Drakes. One Hen left. The unique manufacture of this decoy caused a high failure rate when forming the duck-hull. Mallards and Wood Ducks are not affected.
9/6/03 Towing & Recovery with a Tennis Ball at bottom of the page.
9/6/03 Update on Vac-U-Tow with test hull photos.
8/24/03 Aircraft frequency radio for sale at Buy & Sell
8/7/03 New Gadget page to share ideas for clever stuff to put on the boat at Gadgets For Your Boat.
8/6/03 Added a Sea Plane and Soling 1M to the recovery page at the Towing & Recovery page. Rumors are growing about a fast duck called Kwik Kwack.
7-30-03 E-mail ordering clarification. To make a useable form on a new email, (For PayPal orders), using Internet Explorer, from the order form page, click "Mail" then in the drop-down, "Send page". When the new email appears, you can type on the order form.
7/28/03 Vac-U-Tow is past the "drawing board" and on the way to reality. A beginners Trip Boat-Class Towboat. Click HERE for a peek.
7/25/03 Thank You for 10,000 Hits at Vac-U-Boat.com!
7/24/03 I am working on an upgraded drive system designed just for towing larger boats. The prototype draws 2.3 amps and pulls 10 ounces on six cells without overheating. Over 3 times the pull of the stock setup. I am still deciding on the best motor for the package. More to follow as I get feedback from builders.
7/15/03 Couple of pictures of an example of a retractable tow arm in the Towing & Recovery Section. Helps your tug fit in its box without having to use a screw driver.
6/29/03 Vac-U-Tug Jr. is now available in three kits. The original "Complete Hull Kit" with all of the drive hardware, motor, clamps, & stern lube, the "Replacement Hull Kit" to rebuild a damaged Tug Jr., and the new "Builder's Hull Kit" that is a complete exterior for you build-in your custom drive system.
6/28/03 Had to split up the photo pages for the Tug Jr. and the Duck. Too many photos coming in to put on one page!
6/26/03 Vac-U-Cam Camera Boat. The hull and deck are now formed with .060 plastic, a 50% increase in thickness like the improved Vac-U-Tug.
6/3/03 Fixed link to Texas Longhorn Lid. Sorry about that!
6/2/03 "Boat In A Box" from Michael, a member of http://groups.yahoo.com/group/RCTugboat/ Links for his tug in both the Special Boats and Towing and Recovery sections.
5/27/03 Texas Longhorn Lid. A good idea from the Dairy State on detachable sail stay snagging rigs added to the Towing and Recovery page.
4/17/03 Static Pull Chart added to the Drive Modifications (More Power) page. Gives motor amp-draw for various battery and prop configurations.
3/19/03 Found a new paint that bonds well to styrene and is in large cans. However, colors are limited. Krylon "Fusion" spray paint. See Painting Tips section.

2/3/03 PayPal added (sort of). No shopping cart yet but manual PayPal transactions are available for credit card payments. Details on the Order Form page.
1/5/03 - Clear Vac-U-Tug Jr. in the Special Boats section. See what's going on inside...
1/4/03 - Pintails are available and are added to the Vac-U-Duck page.
12/18/02 - The Vac-U-Tug Jr. has a New Thicker Deck & Hull! The hull and deck are now formed with .060 plastic, a 50% increase in thickness. This cures the issue of excessive flex in the deck and makes a stronger hull for running into a rocky shore. This was achieved without affecting the appearance of the kit.
12/12/02 - Added 4-Blade Plastic 2-Piece Prop to the inventory. Gives "7-cell" performance with a 6-cell battery. More power for towing & recovery work.
12/2/02 - Added new section on props, motors, speed, etc... at Drive Modifications (More Power) . More to follow on this page.
11/23/02 - Posted actual Vac-U-Duck Instructions in a color .pdf file at the bottom of the Vac-U-Duck page.
11/19/02 - Vac-U-Ducks are finally available. More types to come. Details at Vac-U-Duck page. Prices at Kits, Parts, & Accessories page.
11/18/02 - Added Real Fire Boats and Tugs page for photos to inspire Vac-U-Tug owners.
11/14/02 - Repairs and Maintenance
11/13/02 - Actual photos of production Vac-U-Ducks added to Vac-U-Duck page. Almost done.
11/13/02 - NAMTSA North American Model Tugboat Soccer Association page added.
11/13/02 - Several videos in the Pictures, Vac-U-Duck, Towing & Recovery Victoria, and NAMTSA pages. More Vac-U-Cam photos added.
11/12/02 Added an ODOM Atlanta page for local ODOM sailing enthusiasts
11/11/02 - New towing page at Towing and Recovery with features for General Towing and towing of specific models of craft with the Vac-U-Tug. Victoria & Odom sail boats detailed.
11/10/02 - Added Bill's Pennsylvania Railroad Tug to the Special Boats section.
10/5/02 - Vac-U-Duck is in production. Pricing and features to follow. New photo on the Vac-U-Duck page.
10/2/02 - X-10 Camera Tug on the Special Boats section.
9/18/02 - Progress report on Vac-U-Duck on its page.
9/14/02 - Bulletin Board added to the SEBM Club meeting page.
9/11/02 - The initial Towing and Recovery Page is ready! Expansion to follow.
New Vac-U-Boat pictures added.
Pix Taken By Vac-U-Cam section
Vac-U-Cam Camera Boat is here!
Kevin's Tug in the Special Boats
Painting Tips is finished!
Preview of Vac-U-Duck!
Rob's Tow Boat used in the Odom Atlanta sailing club. See the Special Boats section.
New Fire Boat construction pictures from Don.