Development of the
Vac-U-Tow™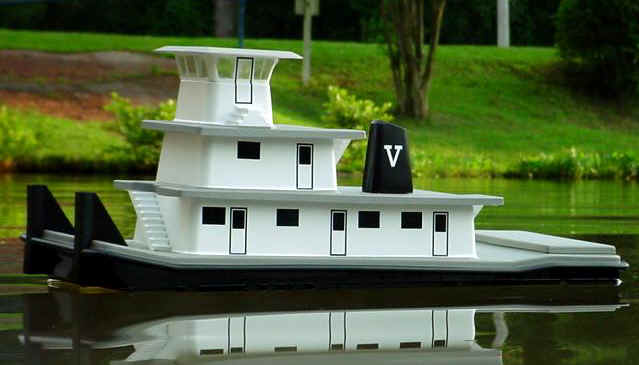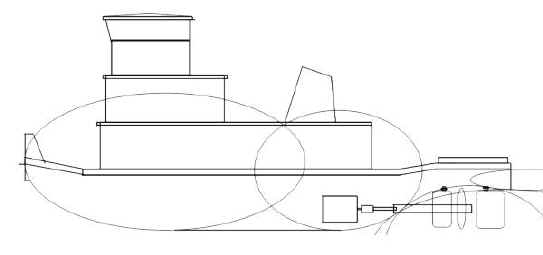 Length: 21.5 in. Beam: 6.5 in. Draft: 2 in. Displacement: 4.5 to 6 lbs.
1:48 Scale (1/4 inch = 1 foot)
Model Towboat Kit
( Model Pushboat Kit )
For Radio Control
Manufactured by Vac-U-Boat™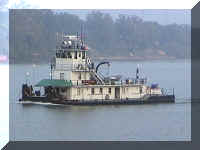 Inspired by the Crounse Line of single-screw towboats. Click the photo to see details of the Patsy Coleman.

The Vac-U-Tow™ is going to be an easily-built styrene "Trip Boat" Class towboat hull kit for builders new to the hobby or for our young boating friends who want to learn about workboats on our rivers and waterways.

Although subject to revision as the target date nears, the Vac-U-Tow kit should come complete with a 545-type 5-pole motor, a single-screw drive system, flanking rudders, and a system for installing, aligning, and controlling them that will work for you.

Progress on the kit can be seen below.

August 2, 2003

August 2: Beyond the "drawing board". Hull molds are under construction. Plans are for a generic model, not a copy of a specific boat. Scale is the same as the Vac-U-Tug Jr. The Vac-U-Tow should fit into the same carrying case as the Tug!

Remember to click the thumbnails to enlarge the photo.

September 6, 2003
| | | |
| --- | --- | --- |
| | | |
| First mold to check fit of deck to hull. Note Scow Bow and Ramp Raised Stern. | Rear hatch has center cutout to access rudders. Cover will be added later. | Prop tunnel will fit a 1-3/4 inch prop without touching the table. |
September 6: Hull molds are complete for test forming. Test was successful. Good fit and finish. Mounting points for rudders & prop shaft, and the lower extensions of the pushknees will be added later. The rub rails will require some inside notching to make the corners. If the corners had been made any more rounded, they would have looked unnatural. Cabin walls have to have a slope to them to escape the mold plug after forming. Pushknees will be a separate part. On schedule for sea trials on September 20.
_______________________________________
September 14, 2003
| | | |
| --- | --- | --- |
| | | |
| Prototype rudders. Final rudders will be resin & brass. Rudder shaft is 33% from the leading edge. Hopefully this is enough. 40% would cover the prop diameter better. | This shows the depth of the tunnel. I am trying to compromise between layouts for real pushboats verses what works in scale. | Flankers are symmetrical. There is room to make them slightly longer, fore to aft if more control is necessary. |
| | | |
| The flankers will be linked to the rudder to keep it simple. They could be controlled separately as in a real towboat. | Flankers are within the diameter of the prop. | But not so close that they require notches to clear the stern tube. |
September 14: Installed the stern tube and prototype rudder and flankers. I am pleased with the layout. There is room for larger flankers but I think these should give enough control. I can move them inboard about 1/16 inch if necessary. The hull will have a formed extension to hold about half of the stern tube, much like the buildup of epoxy you see.
_______________________________________
September 20, 2003
| | | |
| --- | --- | --- |
| | | |
| Cabin cover and blue foam superstructure added at last minute so it would look more like a tow boat for the trials. | At full throttle, it does what a real pushboat does; push a lot of water around and swamp the bow. (Stock prop) | Stock kit prop is at the left. I wanted to try this nice looking 1.7" brass prop as well. It has a 6-32 thread, the same as the prop shaft. |
| | | |
| I did remove the cone on the rear of the prop hub and threaded it through so it would fit, and be secured with a prop nut. | Nice wake at half throttle. Goes about the same speed as the tug boat. 2.5 to 3.0 mph. (Stock prop) | Inside of prototype without ballast added. Servo has to sit at center due to "pitchfork" rudder linkage to keep all rudders parallel. |
| | | |
| Movie: Half throttle and full power applied near end. Watch the wave peak at the center of the hull move rearward at power-up. (Stock prop.) 469kb | Movie: Reverse with rudder to port. (Stock prop) 625kb | Movie: Reverse with rudder to starboard. (Stock prop) 435kb |
| | | Blank |
| Movie: Forward with rudder to starboard. (Stock prop) 404kb | Movie: Forward with rudder to port. (Stock prop) 566kb | |
September 20: The initial sea trials could not have been better. Ballast was about right at a total weight of 85 ounces. 43 ounces of boat and gear, 42 ounces of lead ballast. Lots of room for a large gel cell battery. Might have been a couple of ounces heavy in the bow. In reverse, it turned in its own length. In forward, with turn radius of about a foot. With the "stock" 1-3/4" 4-blade plastic prop it pulled 7 ounces on 6-cells (7.2 volts) and 8.5 ounces on 7-cells (8.4 volts). With a 1.7" brass 3 blade from Working Boat Models, it pulled 8.0 ounces on 6 cells (7.2 volts). The motor and drive performed perfectly. Very easy to maneuver up against a disabled boat. Actually did one rescue with the prototype.
_______________________________________
November 18: Got a bit distracted in October. Slow progress as I hash out the final design. Motors are ordered from Johnson Electric Of North America. Finishing up the molds for the 2nd deck and pilot house. Stairs are next. I'll have some more photos once the deck molds are complete.
_______________________________________
Deck roof is about 1/8" too long at the rear. Hatch cover is smooth. Stack(s) will be behind the second deck.
Stairs look great but it is easy to install them with a slant to the treads. Some modifications to the glue-points are necessary.
The same set of molded stairs is used for all three locations.
The design incorporates features from several different towboats.
This is looking down into the pilot house. This top section will be made of clear plastic.
The molded detail will support the helm controls and gauges. Some countertop for pilot-stuff.
The all-important Box Test!. Remove the pilot house roof, with attached flood lamps & accessories, and the whole thing rests comfortably in the tug box.
November 26th. Made some test-molds for the superstructure. I need to make some adjustments. I have to modify the stairs. They look and fit great but need some fine tuning at the top landing. Ignore the corner webbing on the 2nd deck. That will go away when I finalize the mold layout. Inside of the pilothouse looks OK. Add a few buttons, rudder levers, throttles, and you'll have a real boat! White vinyl window frame decals will trim the clear pilot house windows.
_______________________________________
| | |
| --- | --- |
| | |
| Upper Tow Knees are resin cast over stainless 6-32 screws to bolt through the deck. These shouldn't pop loose while playing soccer! | Bow of hull mold (inverted). Lower tow knees are molded into the hull. The tow knees will be trimmed with black foam rubber. |
January 4th. Been very busy on the molds but don't have a lot of photos to prove it. Hull is almost complete. Just have to finish the extension for the stern tube to exit the hull. The superstructure molds are adjusted, permanently mounted, and ready for production. In the big picture, I still have to make the masters for the rudders, the bow towing bollard, and design the internal tray. No delivery date on the motors yet. Not too many hours away from starting work on the instructions. Tremendous number of hours invested. The instructions alone will likely take 20 - 24 hours of work. Whew!
_______________________________________
Feb 28th. A couple of photos from the February Southeastern Boat Modeler's Meeting. Masters for the rudders, flankers, and motor/servo mount. Waiting for more silicone mold rubber to make the final working molds for them. The internal tray mold is complete. It can be used as is, or a plywood floor can be easily installed for custom rigs. Inside the bow will be a place for an optional magnetic barge capture/release mechanism for those with more than 2-channel radios. Rub rails and the push-knee pads are in. Decal set is designed. I have to finish a couple of prototypes to finalize the pilothouse decals.
_______________________________________
| | |
| --- | --- |
| | |
| Good alignment of the upper and lower towknees. | Good fit with the pilot house. White vinyl decals will frame the windows. |
| | |
| From the bow. | Stairs fit better. Smooth stern cover. No stack yet. |
| | |
| Stair detail. | Pilot House. |
| | |
| Cabin roof is too short. Was too long last time. Measure 5 times, cut once! | Overall, good fit. Just a few bugs to work out while I'm waiting on the motors. |
March 13th. Still waiting on the motors to arrive. Built a 2nd fit-prototype. The deck roof is about .15" short. (Was too long, now too short. You would think I didn't own a decent caliper.) Some minor adjustments in the internal tray for a better fit. Overall not bad. The next one will be ready to go.
_______________________________________
April 5th. Built the third (and final) prototype of the finished model. All parts fit well. Parts for ten test boats completed. All instruction manual photos taken. Finalizing decal set. In the home stretch! Attached are some photos taken for the instructions. Check out the innovations. The photos speak for themselves.
_______________________________________
April 17, 2004: Maiden voyages for the two prototypes. No decals yet. Paint is in-progress. Motor/prop setup is compatible with 7.2 - 13.8 volts. Ran tests with 6-cell and 7-cell Nicads, plus with 12 volt lead gel cells. The two 4-Amp-Hour lead batteries are at the limit of the hull's weight capacity. I need a barge!
| | | |
| --- | --- | --- |
| | | |
| Using Hobby Enamel spray paint, the Pilothouse is painted white, (over-spray on deck is not a problem.) dried 45 minutes, masked and then the deck sprayed. Ready for window frame decals. | First (Grey Roof) towboat run on Ni-Cad 6 and 7-cell packs. Bow Ballast Trays shown. Filled with lead shot & epoxy. Rear trays were full as well. Running weight 79 ounces. (4 pounds 15 ounces.) Draft 1.7 inches. | Second (Green Roof) towboat run on two 6-volt lead gel batteries in series. No ballast needed. Batteries are 30 ounces each. Total running weight 95 ounces. (5 pounds 15 ounces.) Draft 2.0 inches. Too heavy to run at full power without a barge in front. |
| | | |
| Good stability despite high winds. Bollard pull 5 ounces on 6 cells, 8 ounces on 7 cells. | No decals yet. Sets are being manufactured. | Push knees and stack will be black. |
| | | |
| 5-minute test at full power at approximately 13 volts. Bollard pull was 13 - 14 ounces. At end of test, the motor was 119 degrees F. Very successful. | While I was out, we recovered a boat. The extra power came in handy as it was quite heavy. | The stern was throwing quite a chop during the 12-volt test. Drive was quiet. |
_______________________________________
May 6, 2004: Everything is ready but the decals. Drawings sent to 2nd source as the first wasn't able to get them done right away.
In the meantime, Paul L sent me an interesting photo. Seems he has talents we didn't know about. This isn't paint. He took a photo of a prototype and used considerable skill to paint with his computer! Can you imagine a real towboat with this color scheme?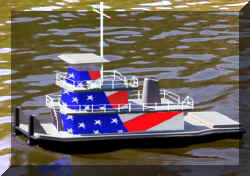 May 20, 2004: Test decals arrived. Look and fit great. Set includes white Vee's for the stack. Pilot house window is framed nicely. Waiting on a shipment of new vinyl to arrive any day now. Then, the sets will be cut and shipped to complete the kits.
June 30, 2004: All done.