Vac-U-Fletcher™

1:144 Scale Model Fletcher-Class Destroyer Kit for Radio Control.
Length 31-1/2 inches. Beam approximately 3.38 inches at the water line.
Based upon one of the most successful weapons systems deployed in World War II.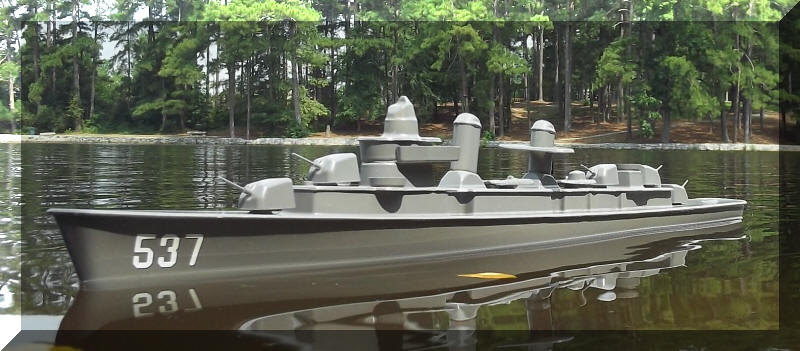 This 1:144 scale Vac-U-Fletcher Kit Features: Tough high-impact polystyrene hull, deck & accessories with realistic details including five 5-inch cannons with brass barrels, exhaust stacks with searchlight platform, two torpedo launchers and the bridge with gun director overhead. The rudder kit includes a rudder cast on a brass shaft with a self-aligning rudder bracket, rudder arm, stainless steel pushrod, and e-z connector with stainless screw. The single drive kit includes a "365" motor direct-driving the precision 1/8-inch stainless steel shaft supported by Oilite® bushings in the brass stern tube with a brass coupling, injection-molded copper colored 1-inch polyethylene prop, 6-32 threaded drive dog, prop nut, six magnets to attach the 2nd deck and a motor mount that also holds the included mini servo for the rudder.
Although the kit is made to be faithful to the original design and scale, some adjustments were made to accommodate the vacuum-forming process such as the bow-angle and the continuous deck house construction. Small items like anti-aircraft gun placements, antennas, depth charges and railings are not included as they are too tiny to form. Smaller details can be scratch-built or 3D printed and added to increase the realism of your finished ship. If you are looking for an exact scale museum-quality kit with hundreds of tiny parts, do not buy this kit!
If you want a easy-to-build ship kit that runs great and looks good in the water, then this is what you have been looking for! See the instructions for necessary tools, glue & paints to build this kit.
While this kit includes a servo, rudder and the complete drive train from prop-to-motor, when completed it still requires Radio Control equipment to run including:
A 2-channel 2.4ghz transmitter/receiver. A pistol-type is easiest to use. A 3 or 4 channel transmitter will have extra channels you might want later to control a water pump to squirt water or to turn on an off lights mounted on the deck.
An electronic speed control "ESC" to give you variable speed forward & reverse control of your ship's motor and to power the receiver through its "BEC" battery eliminator circuitry.
A battery to power the ship. 7.2v (6-cell NiCad or NiMh battery.) or 7.4v (2S LiPo) works best. 6v may be a little slow. Small 1,500 to 2,000mAh (1.5 to 2.0 amp) batteries will give you hours of run time.
Wiring connectors to connect the motor to your ESC plug.
Ballast weight. BB's in a plastic bag mixed with epoxy or adhesive car weights work well. Don't glue them in permanently as you may need to adjust the ballast as you install other hardware or electronics later.
Real Fletcher-Class destroyers had twin counter-rotating propellers. This kit has a more economical single propeller drive that will still drive the ship at faster-than-scale speeds and since it is below the waterline, isn't visible while the ship is running. If you want a twin-drive setup, it is available as an option but not necessary if you are just looking for accurate speed and performance.
Read more about Fletcher-Class destroyers here: http://abbot.us/DD629/fletcher/
This kit is a 1:144 Scale Model. It is not made for IRCWCC Warship Combat nor can it be adapted for Warship Combat.
That is a different kit. Just ask to be directed to that page.
INSTRUCTIONS.
5 Meg File. May load slow. Click photo to open a PDF.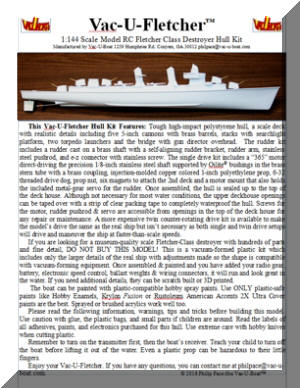 Manufactured by Vac-U-Boat™ 1259 Humphries Rd., Conyers, GA 30012 philpace@vac-u-boat.com